Growth opportunities
In view of the dynamic market development of fiber-optic, mobile internet, and cloud applications, our growth opportunities are clearly apparent: universally accessible, increasingly powerful broadband connections are enabling new and more sophisticated cloud applications. These internet-based programs for end users and companies will remain our growth drivers over the coming years – both as stand-alone products in our Applications division as well as in combination with landline and mobile access products in our Access division.
With our many years of experience as an access and applications provider, our expertise in software development, the operation of networks and data centers, marketing, sales, and customer support, as well as our strong and well-known brands, and our customer relationships with millions of private users, freelancers, and small companies in Germany and abroad, we are well placed to fully exploit the expected market growth in our business fields.
Access division
In the Access division, our operations are pooled in the two segments Consumer Access and Business Access.
Consumer Access segment
The Consumer Access segment comprises our landline-based broadband products as well as our mobile internet products for private users (including the respective applications, such as home networks, online storage, telephony, or IPTV).
These internet access products are offered to our customers as subscription contracts with fixed monthly fees (and variable, volume-based charges) as well as contractually fixed terms.
With the broadband products of the 1&1 brand (especially VDSL/vectoring and fiber-optic connections), we are one of Germany's leading suppliers.
We use 1&1 Versatel's own fiber-optic network as the transport network to connect local networks in the case of VDSL/vectoring connections as well as direct fiber-optic connections (FTTH), and the "last mile" via city carriers as well as Deutsche Telekom (mostly Layer 2). In the case of ADSL connections (a business which is currently being phased out), further advance service providers are used.
Landline infrastructure for private customers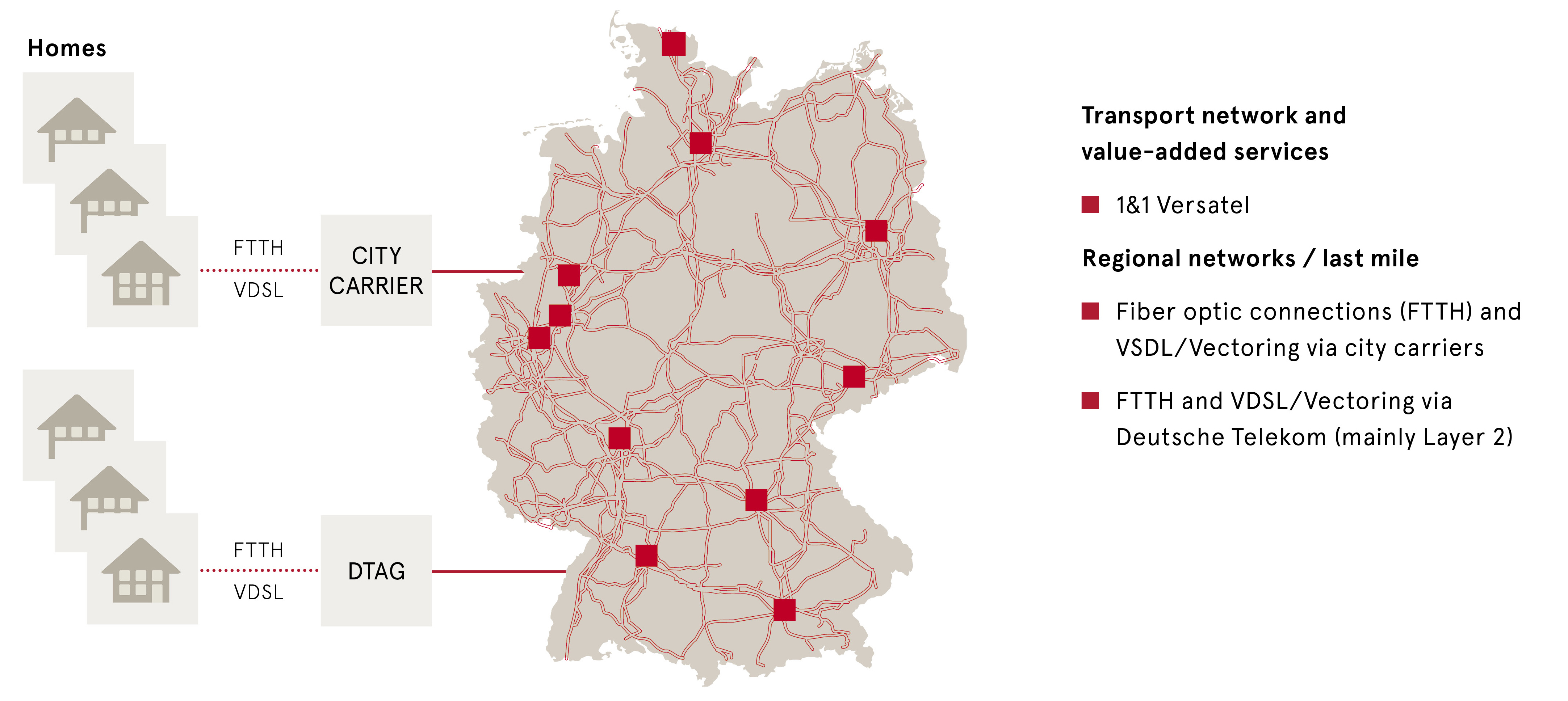 With our mobile internet products, we are the leading Mobile Virtual Network Operator (MVNO) in Germany.
Via 1&1 Drillisch AG – acquired in 2017 – we are the only MBA MVNO in Germany with long-term and guaranteed rights to up to 30% of the used network capacity of Telefónica Germany and thus have extensive access to one of Germany's largest mobile communications networks. In addition, we successfully participated in the 5G spectrum auction in 2019 and purchased two frequency blocks of 2 x 5 MHz in the 2 GHz band and five frequency blocks of 10 MHz in the 3.6 GHz band. This laid the foundation for the development of our own powerful mobile communications network in order to also extend added value in this market – as in the landline market. In February 2021, 1&1 Drillisch decided to accept Telefónica Germany's offer – improved following review by the EU Commission – for national roaming. The conclusion of an agreement, which is expected in May 2021, would be a further important prerequisite for the planned rollout of our own network. In addition to our privileged access to the Telefónica network, we also purchase standardized mobile advance services from Vodafone.
These purchased network services are enhanced with end-user devices of major manufacturers, as well as self-developed applications and services in order to differentiate us from the competition.
Our mobile internet products are marketed via the premium brand 1&1, as well as discount brands like yourfone and smartmobile.de, which enable us to target a wide range of specific user groups in the mobile communications market.
Our brands

In addition to preparations for the creation of our own mobile communications network, our Consumer Access segment focused on adding further valuable broadband and mobile internet contracts in the fiscal year 2020. The total number of fee-based contracts in the Consumer Access segment rose by 500,000 contracts to 14.83 million in 2020. A total of 530,000 customer contracts were added in the mobile internet business, thus raising the total number of contracts to 10.52 million. The number of broadband connections fell slightly to 4.31 million.
Development of Consumer Access contracts in fiscal year 2020
| | | | |
| --- | --- | --- | --- |
| in million | Dec. 31, 2020 | Dec. 31, 2019 | Change |
| Consumer Access, total contracts | 14.83 | 14.33 | + 0.50 |
| thereof Mobile Internet | 10.52 | 9.99 | + 0.53 |
| thereof broadband connections | 4.31 | 4.34 | -0.03 |
| | | | |
In view of our strong brands, innovative products, customer-oriented services, flexible pricing policy, and our excellent value for money, we believe the Consumer Access segment is also very well positioned for the future. In 2021, the main focus will once again be on marketing mobile internet products. With regard to our broadband products, we aim to exploit our strong positioning. In early 2021, 1&1 Versatel entered into an agreement with Deutsche Telekom on the use of the latter's FTTH and VDSL connections for households. This agreement will also benefit the consumer business of 1&1 Drillisch as it also signed an agreement with 1&1 Versatel regarding the procurement of all its broadband services from a single source. As a result, 1&1 Drillisch will be able to significantly expand its broadband offerings for consumers and thus provide an ever-growing number of households with guaranteed gigabit speeds.
Business Access segment
In the Business Access segment, we offer – via the 1&1 Versatel brand – a wide range of telecommunication products and solutions for business customers.
The core of 1&1 Versatel's business model is a cutting-edge fiber-optic network with a length of around 50,900 km, which is one of the largest networks in Germany and is constantly being expanded.
Via this network, 1&1 Versatel offers its business customers telecommunication products – from fiber-optic direct connections to tailored ICT solutions (voice, data, and network solutions). In addition, the 1&1 fiber-optic network is used for infrastructure services (wholesale) for national and international carriers and ISPs.
The fiber-optic network directly connects commercial buildings and local authority sites (FTTB = fiber-to-the-building).
Fiber-optic infrastructure for business customers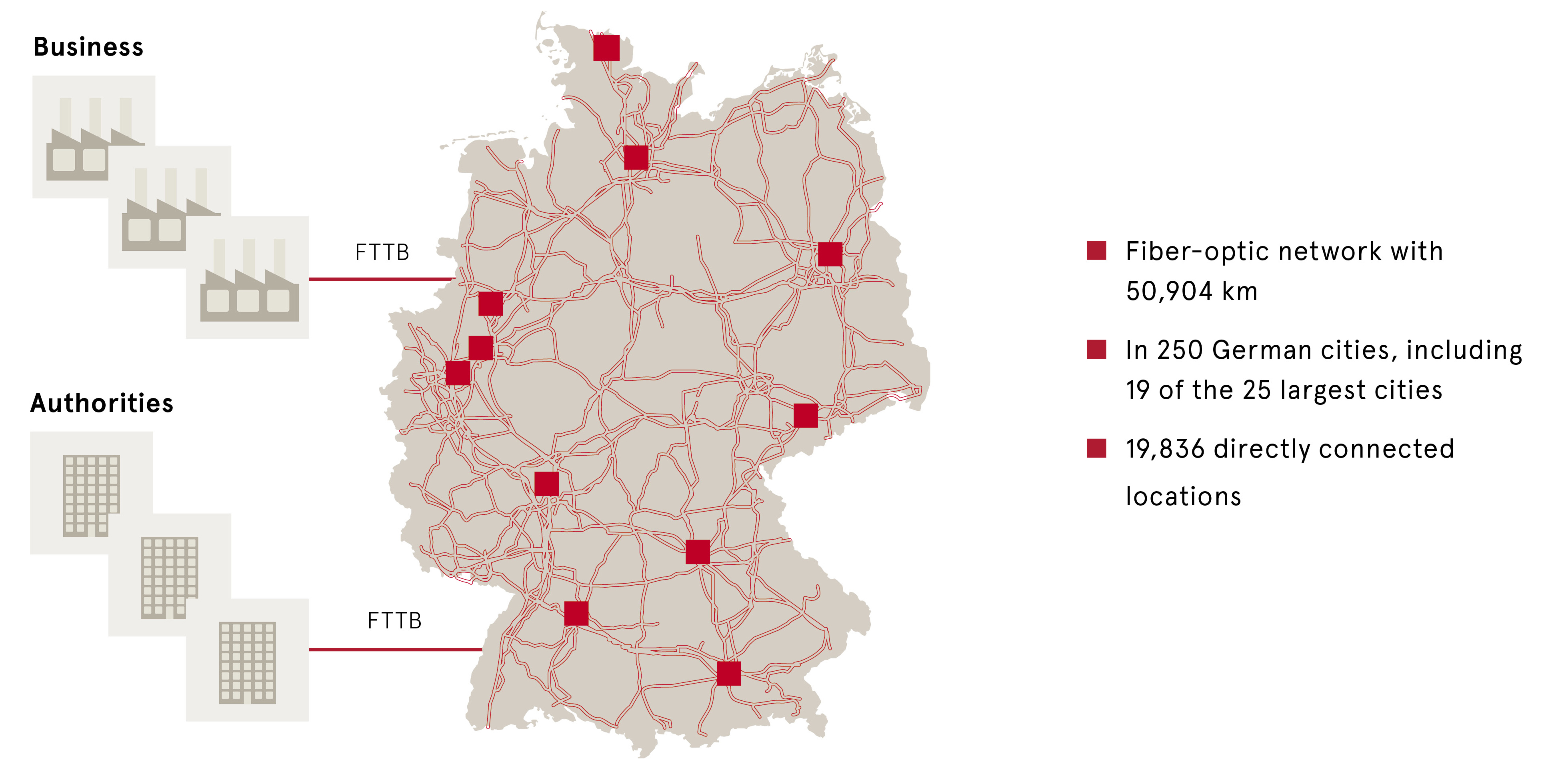 In the fiscal year 2020, the key topics in the Business Access segment were the expansion of the fiber-optic network and the addition of further sites. The network was expanded from 48,489 km in the previous year to a length of 50,904 km, while the number of connected sites was increased from 17,145 to 19,836.
The focus in 2021 will lie on voice, data, and network solutions for SMEs, as well as infrastructure services for large corporations. In addition, our fiber-optic network is to be expanded further in order to gain new customers.
The German telecommunications market is of particular importance for the Access division. The industry association Bitkom forecasts moderate growth for this market in 2021. Following two years of consolidation, sales are expected to grow by +1.0% (prior year: -0.1%) to € 67.4 billion.
Slight growth of +0.3% (prior year: +0.1%) to € 48.7 billion is anticipated for telecommunication services. Sales of TC devices are set to grow by +2.8% (prior year: +0.3%) to € 11.6 billion. The telecommunication infrastructure business is forecast to grow the strongest at +3.2% (prior year: -2.4%) to € 7.1 billion. The industry association expects network operators to invest heavily in the future of their fixed-line (expansion of fiber-optics) and mobile communications (expansion of new 5G mobile communications standard) networks.
Market forecast: telecommunications market in Germany
| | | | |
| --- | --- | --- | --- |
| in € billion | 2021e | 2020 | Change |
| Sales | 67.4 | 66.7 | + 1.0% |
| | | | |
Source: Bitkom, Annual press conference, January 2021
Applications division
The Applications division comprises our activities in the two segments Consumer Applications and Business Applications.
Consumer Applications segment
Our applications for home users are pooled in the Consumer Applications segment. These mainly comprise Personal Information Management applications (e-mail, to-do lists, appointments, addresses) and online storage (cloud), as well as domains, website solutions tailored to consumer needs, and office software.
By steadily developing our portfolio, we have expanded the GMX and WEB.DE brands – the most widely used e-mail providers in Germany for many years now – from pure e-mail service providers to complete command centers for the communication, information, and identity management needs of our users.
From e-mail service to command center for communication, information, and identity management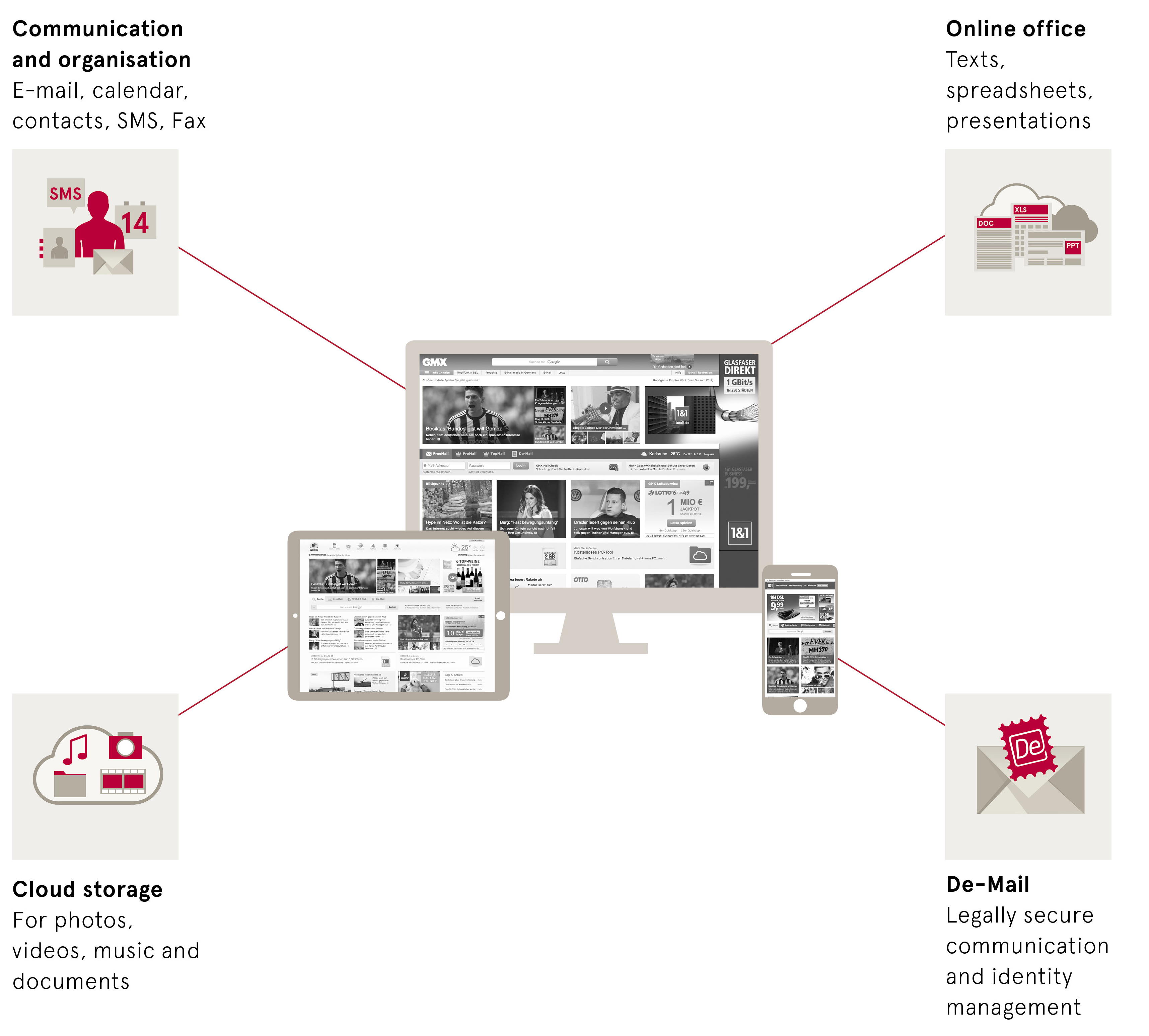 Our consumer applications are nearly all developed in-house and run at the Group's own data centers.
The products are offered as fee-based subscriptions (pay accounts) or in the form of ad-financed accounts (free accounts). These free accounts are monetized via classic – but increasingly also via data-driven – online advertising, which is marketed by United Internet Media.
Our ad-financed applications and fee-based consumer applications are marketed actively via the GMX and WEB.DE brands primarily in Germany, Austria, and Switzerland, where we are among the leading players.
Market standing in Germany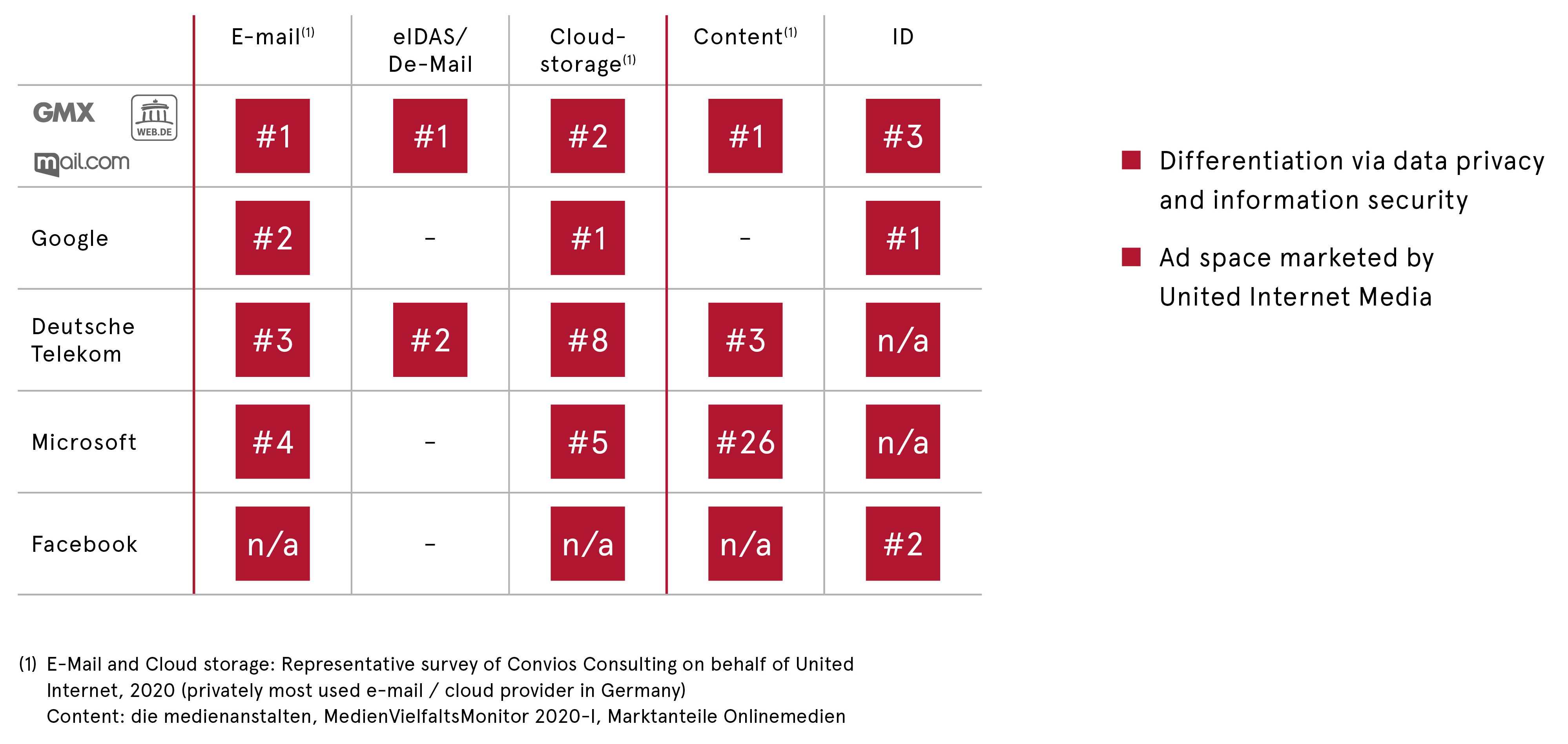 Since the acquisition of the US provider mail.com, we have been driving our international expansion in this segment. In addition to the USA, mail.com targets other countries, such as the UK, France, and Spain.
In the fiscal year 2020, activities in the Consumer Applications segment continued to focus on the establishment of data-driven business models.
At the same time, our fee-based pay accounts (contracts)rose by 110,000 to 2.37 million in the fiscal year 2020. Ad-financed free accounts increased by 1.81 million to 39.40 million. The total number of Consumer Applications accountstherefore increased by 1.92 million to 41.77 million.
Development of Consumer Applications accounts in fiscal year 2020
| | | | |
| --- | --- | --- | --- |
| in million | Dec. 31, 2020 | Dec. 31, 2019 | Change |
| Consumer Applications, total accounts | 41.77 | 39.85 | + 1.92 |
| thereof with Premium Mail subscription | 1.63 | 1.54 | + 0.09 |
| thereof with Value-Added subscription | 0.74 | 0.72 | + 0.02 |
| thereof free accounts | 39.40 | 37.59 | + 1.81 |
| | | | |
With our strong and specialized brands, constantly growing portfolio of cloud applications, and already established business relationships with millions of home users, the Consumer Applications segment is well positioned to exploit the emerging opportunities in the cloud computing market for home users, as well as in the advertising-oriented big data business.
In the fiscal year 2021, we will once again focus on raising the number of fee-based customer relationships and further expanding our data-driven business models.
Business Applications segment
In the Business Applications segment, we open up online business opportunities for freelancers and SMEs, while also helping them to digitize their processes. We do this by offering a comprehensive range of powerful applications, such as domains, websites, web hosting, servers, cloud solutions, e-shops, group work, online storage (cloud), and office software, which our customers can use via subscription agreements.
Based on our tried and tested, million-selling hosting packages, our product range has been expanded over the past few years with the addition of numerous cloud-based e-business solutions.
From web host to e-business solutions provider
Our business applications are developed at our in-house development centers or in cooperation with partner firms and run on over 90,000 servers at 10 data centers.
In the Business Applications segment, we are also a leading global player with activities in various European countries (Germany, France, UK, Italy, Spain, Netherlands, Austria, Switzerland, Poland, Hungary, Romania, Bulgaria, Czech Republic, and Slovakia), as well as in North America (Canada, Mexico, USA). Further countries are to be gradually added.
International footprint

Our business applications are marketed to specific target groups via the differently positioned brands IONOS, Arsys, Fasthosts, home.pl, InterNetX, STRATO, united-domains and World4You. In addition, we offer our customers professional services in the field of active domain management via the Sedo brand, while we22 (acquired in early 2021) offers other hosting suppliers a white-label website builder for the creation of high-quality websites.
In the fiscal year 2020, the main focus in this segment was on the sale of additional features to existing customers (e.g., further domains, e-shops, and business apps), as well as the acquisition of high-value customer relationships. Due in part to time-limited discounted offers for new customers during the coronavirus crisis, the total number of fee-based Business Applications contracts was increased by 300,000 contracts in fiscal 2020. This growth resulted from 160,000 new contracts in Germany and 140,000 abroad. As a result, the total number of contracts rose to 8.45 million.
Development of Business Applications contracts in the fiscal year 2020
| | | | |
| --- | --- | --- | --- |
| in million | Dec. 31, 2020 | Dec. 31, 2019 | Change |
| Business Applications, total contracts | 8.45 | 8.15 | + 0.30 |
| thereof in Germany | 4.06 | 3.90 | + 0.16 |
| thereof abroad | 4.39 | 4.25 | + 0.14 |
| | | | |
With our strong and specialized brands, a steadily growing portfolio of cloud applications, and existing relationships with millions of home users, freelancers, and small businesses, we are also well positioned in our Business Applications segment to further exploit the domestic and international opportunities offered by the cloud computing market for business clients. In the Business Applications segment, the focus will continue to be on expanding business with existing customers and gaining new high-quality customer relationships in 2021.
The trend toward the increasing use of cloud applications is working in favor of our Applications division – both for Consumer and Business Applications.
In an update of its study "Forecast Analysis: Public Cloud Services, Worldwide, 2018-2024, 3Q20 Update" (September 2020), Gartner forecasts global growth for public cloud services of +18.4% from USD 257.54 billion to USD 304.99 billion in 2021, following the pandemic-related slowdown of growth in 2020 (+6.1%).
Market forecast: global cloud computing
| | | | |
| --- | --- | --- | --- |
| in $ billion | 2021e | 2020 | Change |
| Global sales of public cloud services | 304.99 | 257.54 | + 18.4% |
| thereof Application Infrastructure Services (PaaS) | 55.49 | 43.82 | + 26.6% |
| thereof Application Services (SaaS) | 117.77 | 101.48 | + 16.1% |
| thereof System Infrastructure Services (IaaS) | 65.26 | 51.42 | + 26.9% |
| thereof Management and Security Services | 17.00 | 14.88 | + 14.2% |
| thereof Business Process Services (BPaaS) | 47.52 | 44.74 | + 6.2% |
| thereof Cloud Desktop as a Service (DaaS) | 1.95 | 1.20 | + 62.5% |
| | | | |
Source: Gartner, September 2020
The prospects for funding free applications via online advertising are also positive again. After the pandemic-related strong decline in online advertising of -4.7% in 2020, PricewaterhouseCoopers expects the market to recover in 2021 with total market growth (mobile advertising and desktop advertising) of +7.5% to € 8.7 billion.
The strongest growth is expected for video advertising and display advertising with increases of +16.9% and +8.7%, respectively.
Market forecast: online advertising in Germany (mobile advertising & desktop advertising)
| | | | |
| --- | --- | --- | --- |
| in € billion | 2021e | 2020 | Change |
| Online advertising revenues | 8.70 | 8.09 | + 7.5% |
| thereof search marketing | 3.51 | 3.40 | + 3.2% |
| thereof display advertising | 2.63 | 2.42 | + 8.7% |
| thereof affiliate / classifieds | 0.76 | 0.73 | + 4.1% |
| thereof video advertising | 1.80 | 1.54 | + 16.9% |
| | | | |
Source: PricewaterhouseCoopers, German Entertainment and Media Outlook 2020 – 2024, November 2020