INTERVIEW MIT RALPH DOMMERMUTH
Mr. Dommermuth, how would you judge the past fiscal year 2019?
2019 was a landmark year for us, in which we laid the foundation for our own mobile communications network. Following the successful participation of 1&1 Drillisch in the 5G spectrum auction, we now have the necessary spectrum to establish a powerful 5G network. This means that we have established the prerequisites for opening up new business fields and significantly extending our value chain in the Consumer Access segment.
There was also strong progress in our Applications division during the past year. We drove forward the independence of the Business Applications segment and documented this with the rebranding of our IONOS brand (formerly 1&1 Internet). In the Consumer Applications segment, we are focusing increasingly on big data and the further establishment of our netID log-in standard.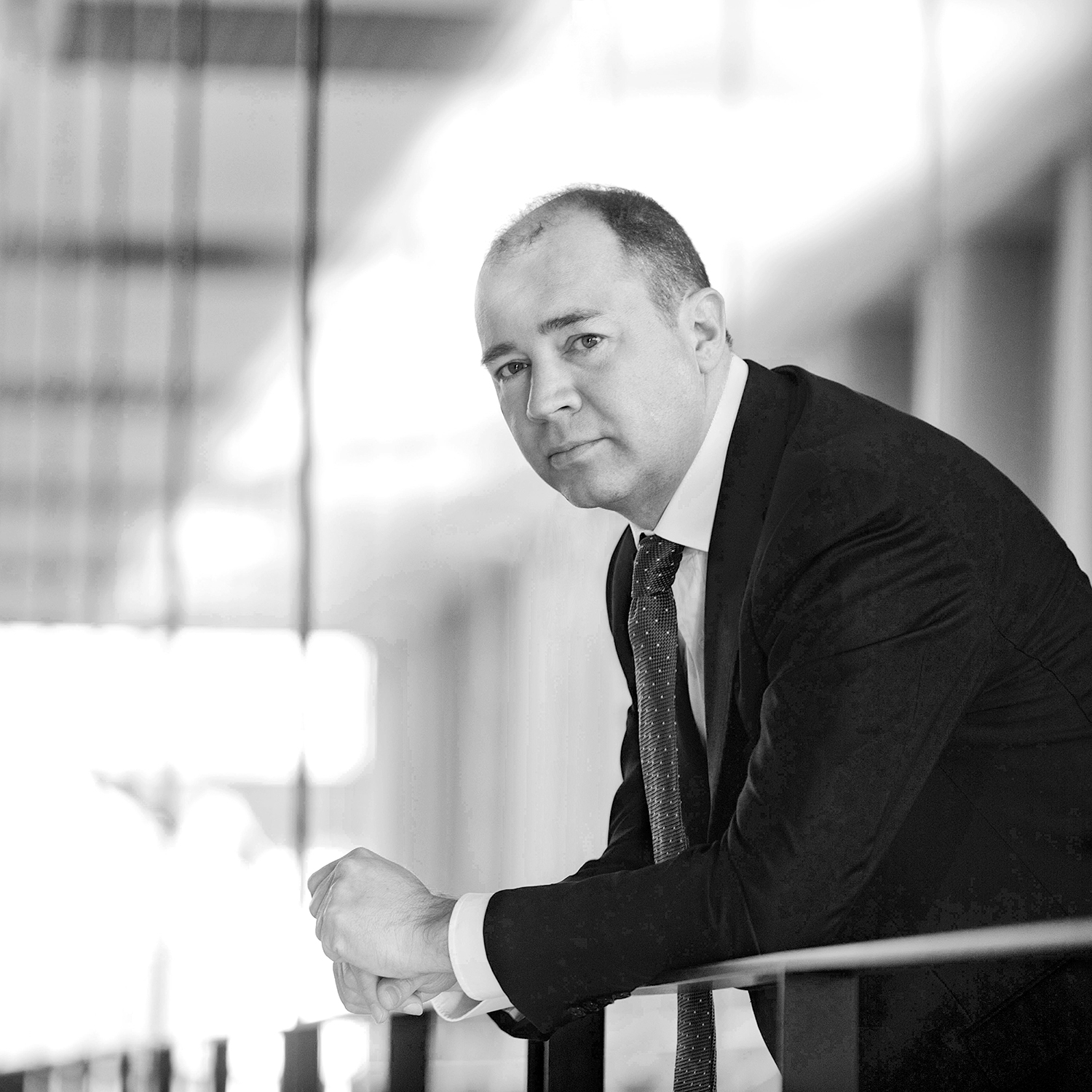 You mentioned extending the value chain – what are the benefits for your business model of having your own 5G network?
Operating our own network opens up huge potential for our corporate development going forward. Especially as 5G is more than just a new mobile communications standard – 5G forms the basis for the further digitization and networking of Germany.
We currently purchase wholesale mobile services from Vodafone and Telefónica and – in contrast to our other business fields – this means a comparatively low level of vertical integration. Operating our own network offers four major benefits: we are less dependent on access to the networks of established providers; we can tailor our network to customer needs; we can differentiate our products even better; and we can tap new business fields. As a new player, we also have the opportunity to use state-of-the-art technology for the construction of our network right from the start – without having to worry about the complexity of legacy networks.
We are excellently positioned for this new chapter in our company's history. Because in addition to a large customer base, strong brands, and outstanding expertise in application development, we have access to one of Germany's largest fiber-optic networks. The approximately 50,000 km long network of our subsidiary 1&1 Versatel will form the backbone of our future 5G network.
After a historic 497 rounds, the spectrum auction ended on June 12, 2019. What has happened since then in terms of network construction?
Quite a lot actually. The first step was to commence talks with the established network operators on the subject of national roaming – the use of third-party networks during the construction phase of our own network. At the same time, negotiations are underway with potential partners for construction of the network, whose 5G infrastructures we have now successfully tested.
In addition, and as announced, 1&1 Drillisch has leased two frequency blocks in the 2 GHz band from Telefónica which we can use to bridge the period until the spectrum we acquired in this range is available. The MBA MVNO agreement was also extended by five years to secure 1&1 Drillisch's long-term access to the Telefónica network. The MBA MVNO agreement allows 1&1 Drillisch to convert the contract to a national roaming agreement if it wants.
1&1 Drillisch also signed an agreement with the German Federal Ministry of Transport which enables it to spread the costs for the acquired 5G spectrum – € 1.07 billion – in installments. In return, we will build hundreds of base stations in rural regions, thus also helping as a newcomer to supply so-called "not-spots". The buildout will be undertaken in cooperation with the other network operators – proof that no network operator can build a powerful 5G network for the whole of Germany on its own.
What do you still need to start your network? When is 1&1 Drillisch expected to commence construction?
A prerequisite for the construction of the network is a fair national roaming agreement. After all, as a new market player we'll need to share existing mobile networks in the years until construction work is completed and we can ensure nationwide coverage with our own network. This is standard international practise.
"Operating our own network opens up huge potential for our company as 5G is more than just a new mobile communications standard – 5G forms the basis for the further digitization and networking of Germany."
RALPH DOMMERMUTH
So far, our negotiations with the incumbent network operators have not produced any economically viable offers. If negotiations fail to make constructive progress in the coming period, we will rely on the Federal Network Agency to quickly and effectively perform its function as arbitrator.
In the next step, we will then conclude our negotiations with potential network equipment suppliers and choose partners who can offer us high-performance network components at attractive terms, while at the same time, of course, also meeting all existing security requirements in Germany.
A lot also happened in the Applications division in the past year – rebranding and big data were two key topics. What are your plans here?
We already began making the Business Applications segment more independent and separate from the 1&1 brand two years ago. In the past year, we launched the second phase of our rebranding, from "1&1 IONOS" to "IONOS by 1&1". At the same time, we restructured the entire internal organization of the division. One area of focus is our cloud business, which we want to anchor even more strongly in the market and where we see enormous potential for future growth.
In the Consumer Applications segment, we will focus more on artificial intelligence and big data in the future. Naturally, we remain committed to Europe's strict data protection regulations. As one of the founders of the netID Foundation, our aim is to get more partners on board so we can roll out this European log-in standard across the continent.
What are your expectations for the fiscal year 2020?
In view of the coronavirus crisis, this year will be extremely challenging for our country and our entire economy. As an internet company with stable and robust subscription models, we are well positioned to master this exceptional situation. We therefore expect revenue and earnings for the fiscal year 2020 to be on a par with the previous year.