INTERVIEW wITh RALPH DOMMERMUTH
Mr. Dommermuth, how would you judge the past fiscal year 2022?
Positively. We continued to drive growth across the United Internet Group and once again achieved year-on-year improvements in our most important metrics – customer contracts, sales, and operating result.
In the Access division, the main focus in 2022 was the rollout of the 1&1 mobile network based on innovative OpenRAN technology. Despite delays in the provision of antenna locations, we once again reached important milestones . These include the successful operational launch of our new 5G network with the first service "1&1 5G at Home". In 2022, we also concluded further key partnerships for radio tower infrastructure and gained a strong partner for international roaming in Orange.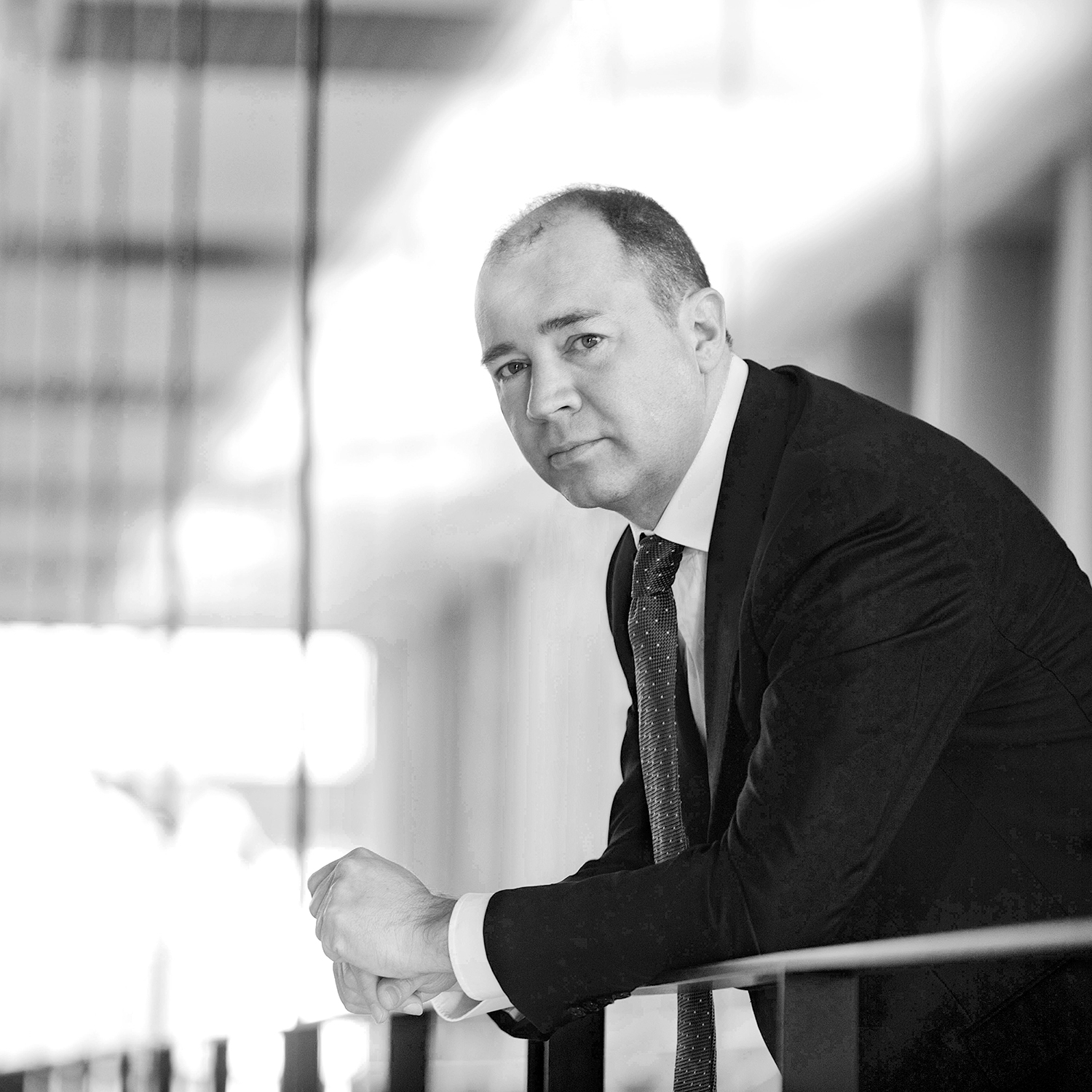 But there was also plenty of progress in the Applications division. While we continued to expand our consumer brands GMX, WEB.DE, and mail.com into comprehensive communication and information platforms – also through the increased use of artificial intelligence – activities at IONOS focused on preparations for the IPO held in February 2023.
After Rakuten in Japan and Dish in the USA, 1&1 is the third network operator worldwide and the first in Europe to launch a fully virtualized OpenRAN in live operation. What did the preparations for the product launch involve, and what exactly is the initial "1&1 5G at Home" service?
"1&1 5G at home" is a 5G landline replacement product realized via a mobile network. Unlike fixed fiber-optic or cable connections, data is transmitted wirelessly via 5G and Wi-Fi router directly into the customer's living room.
The performance of our first 5G product was thoroughly tested under realistic conditions during several weeks of friendly user tests in Frankfurt, Mainz, and Karlsruhe in the summer of 2022. In addition to speeds of over one gigabit per second and stable data transfer of more than eight terabytes per day, we were able to achieve response times of less than three milliseconds in a gaming showcase. These are top performance figures which can only be achieved with the cloud-native network architecture and regional data centers of our innovative mobile network. More than 500 regional edge data centers are being set up across Germany in the immediate vicinity of our antenna locations for the 1&1 OpenRAN – connected to fiber-optic lines and equipped with gigabit antennas. The applications that run here benefit from extremely short transmission paths, which are essential for real-time applications. The goal is clear: as the fourth network operator, 1&1 aims to push Germany to the forefront of 5G technology.
Based on our excellent friendly user test results, we launched the 1&1 OpenRAN on schedule in December 2022 at the antenna locations available to us. This technological tour de force demonstrates how innovative mobile networks can be built nowadays. The efforts of established network operators to upgrade parts of their existing infrastructure to the new technology also underscores the fact that OpenRAN is the future.
You already mentioned that although the network technology is operational, there were significant delays in the expansion of antenna locations in the past year. What were the reasons for this?
In September 2022, our main supplier for the provision of antenna locations informed us that it would not be able to meet its contractually agreed targets. The almost complete non-performance of Vantage Towers came as a surprise to us and could not be made up by the end of the year. As a result, we fell well short of the first interim target of 1,000 5G antennas by the beginning of 2023. A possible active obstruction of 1&1's network rollout by Vodafone – which controlled Vantage Towers as the main shareholder with a stake of around 82 percent – is currently being investigated by Germany's Federal Cartel Office.
In April 2022, we already commissioned two more renowned partners for radio tower infrastructure: American Towers and GfTD. Since November 2022, Eubanet has also been supporting the acquisition of new antenna locations for 1&1's OpenRAN as a fourth partner. We are now doing everything possible to rapidly make up lost ground in the expansion of our antenna locations.
What are the next steps for the rollout of Germany's fourth mobile network?
We are sticking to our plan of launching mobile services for smartphone users in the third quarter of 2023. At this time, the national roaming service to be developed in parallel by Telefónica will be available as planned. This will enable us to offer our customers nationwide connections during the rollout phase of our 1&1 OpenRAN.
"As the fourth network operator, 1&1 aims to push Germany to the forefront of 5G technology."
RALPH DOMMERMUTH
International roaming will also be available from the start of mobile services. In order to provide our customers with reliable and excellent mobile services while abroad, we entered into a long-term partnership with Orange in November 2022. Under the terms of the agreement, we have access to the global international roaming services of the French network operator and its global partner networks, including the latest technologies.
IONOS was already considered a hot candidate for an IPO in 2021. Last year, preparations for the IPO of the hosting and cloud provider were in full swing before the bell rang on the floor of the Frankfurt Stock Exchange on February 8, 2023. What was behind the decision for the IPO of IONOS?
Over the past few years, IONOS has made impressive progress and achieved a strong position as a leading European digitalization partner for small and mid-sized enterprises. With innovative cloud services, IONOS also serves a market with enormous growth potential. In 2021, IONOS exceeded the one-billion-euro revenue mark for the first time. In 2022, this figure grew by a further 17 percent.
In view of its strong growth, an IPO was the next logical step in the company's history – a step that we have been driving forward together with IONOS shareholder Warburg Pincus over the past few years. The company's success story, resilient business model, and attractive future prospects attracted the interest of investors around the world. We are convinced that the IPO will open up numerous new growth opportunities for IONOS and we look forward to supporting the company's development as its majority shareholder.
What are your expectations for the fiscal year 2023?
For the fiscal year 2023, we expect an increase in sales to approx. € 6.2 billion. Despite additional investments, EBITDA is likely to be on a par with 2022. This forecast includes increased costs for 1&1's 5G network rollout of approx. € 120 million (prior year: € 52 million).
As a European internet specialist with over 10,000 employees and around 67 million customer accounts, our aim is to actively shape Germany's digital future. We look forward to embracing the opportunities and challenges that digitalization presents in the years to come.